Tour Operator - African Desk
African Desk has existed since 2001 and is an active member of the "Namibia Tourism Board", a governmental organization that ensures that tourism services meet the highest quality standards. Owner is Elizabeth de Beer. The office of African Desk is located in the Woermannhaus, the most famous historic building centrally in the center of Swakopmund, a coastal town with 22,000 inhabitants.
Elizabeth de Beer
I was born in Swakopmund and grew up with my grandparents on a farm - "Vlakbank". At that time, it was common for children to stay with their grandparents because their parents earned their living in the city. There were cows and sheep on the farm and we produced milk, butter, cream and biltong (dried meat). The farm was located near the dry riverbed deep in the Namib Desert and is now part of a nature reserve. The property was family owned since 1914 and has been inherited by my great-grandfather. I will never forget the life on this farm - the silence and the peace amidst a pristine desert landscape and all the many stories our grandparents told us. I would like to bring you this and other experiences in a land of endless width. Elizabeth de Beer, Managing Director of African Desk, has been organizing cultural tours through Namibia since 1989. Elizabeth is a threefold mother and culturally rooted in the Damara community. That education was the best thing she could do for her children, she felt as her son and daughter built up a successful life after school. This encouraged Elizabeth to start a kindergarten and assist and financially support school education and study of children and youth in Swakopmund with the help of former African Desk clients.

Today her niece Anna (7) and her nephew Romeo (4) live with her. As part of exchange programs, Elizabeth also welcomes overseas adolescents to open up new perspectives: "I come from a large family and return to it - I love this way of life"
Simon Ntinga
Simon comes from Ondangwa in northern Namibia, his family moved to the southern part of the country to Karasburg when he was 4 years old. There he learned Nama as another national language of Namibia. After high school, a friend introduced him to a lodge owner who employed him first as a waiter and then as a bartender, where he talked to international guests who brought beautiful stories from Europe, Australia or the US. This sparked his interest in showing people from all over the world his country guide. Many years later, he completed his training as a guide. Simon speaks fluently, English, Otjiwambo, Nama, Afrikaans and has a basic knowledge of German. He is especially well-versed in his old homeland, especially in the Fishriver Canyon, but also the other parts of Namibia are familiar to him after many years of professional experience: "I love my country and I am proud to bring Namibia closer to other people!"

Floyd Kavezembua Hambira
Floyd is working as a tour guide for African Desk. Floyd grew up close to Gobabis and he spent seven years in Cologne, Germany as part of a technical training. Since 1998 he has been back in Namibia, staying in Windhoek with his wife and two sons. He is fluent in English, German, Afrikaans and Otjiherero. Floyd is a responsible, patient and caring personality. Even in difficult situations he keeps his composure, he is a safe driver and does not only know his country like the palm of his hand but is also an expert in preparing tasty barbecues. Besides Floyd also offers a 24-hours airport transfer.

Pascallis Uapingena Kazimbu
After leaving school, Pascallis attended the Tourism College in Windhoek to teach travelers more about vegetation, Africa's wildlife and the culture of his country. He is fluent in English, Afrikaans and Otjiherero. Pascallis grew up together with five siblings on a herero farm near Outjo. From there he knows the pitfalls of some gravel roads, which he masters confidently and safely as a driver. He is a forward-looking and attentive companion to the traveler.

Lorraine Tjoono Ndjarakana
Lorraine - or Tjoono, as it is commonly called, makes tours of Windhoek and Katutura - a township about 15 minutes drive outside of Windhoek. She was born and raised in Katutura herself - almost all relatives and friends live there. Tjoono is now a single mother of two, has a degree in tourism management and is currently completing a secondary education as an educator. In her 2-hour guided tours of the Katutura Township, it is important to her to bring guests closer to the quality of life of the inhabitants, which does not necessarily subscribe to externally visible prosperity, but conveys values ​​such as joie de vivre, generosity or helpfulness. Their concern is for guests to feel welcome and to return with a broader understanding of what really matters in life upon their return.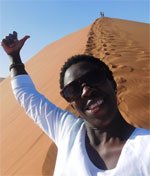 Anne Spelmans
It was in 1999 that Anne and her husband visited Namibia for the first time. But since 2006 they have travelled regularly throughout the whole country. There were and have always been on the move on individual planning and by now they know almost every region of Namibia.
Anne met Elizabeth de Beer for the first time in 1995 - she was planning their individual journey and by surfing the Internet she ran across African Desk. Anne Spelmans plans her trips to different continents usually on her own and has cultivated lots of contacts to many people around the world, but primarily in Southern and Eastern Africa and especially in Namibia.


In 2006 her involvement for African Desk started. Today Elizabeth and Anne communicate almost every day. Besides they often have met either in Namibia or Germany. Because of her profound knowledge of Namibia as well as her knowledge of what German tourists need Anne is spending more and more time in putting together itineraries for African Desk - in the beginning for her friends, later also for German clients. She is also translating and the first person to contact in Germany.